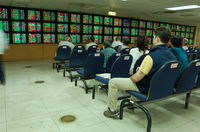 Well, it is now easier than ever for members of FlickR to add some pictures to the Taiwan Picture of the Day due to the new group we've created. Thanks to the idea from Craig, now it is easy to add pictures to the group to be considered for the Taiwan Daily Pic. It is quite a bit of work to keep the project maintained and make sure there is a fresh picture everyday to display on the various blogs, websites and facebook..., but due to this new Flickr group making it easier to submit new pictures for existing members, there is now a new pool of great quality pics to choose from.

Check out the group here - Taiwan P.O.D. Candidates

Other News....

Getty Images is for sale - Got a spare Billion USD$ give or take a half? Make a bid for the pre-eminent purveyor of images for media.

Taiwan Guide Links - Thanks to the perennially interesting David for keeping us up to date on the happenings in Taiwan and for the link to our little old web site.