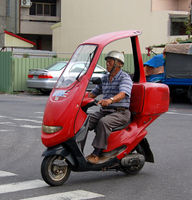 Not a lot to report these days, as I have actually been super busy at my day job. The company I work for now merged one of their divisions with the old company I used to work for up until July of last year. So, I've been called upon to do a lot of extra programming tasks that had not been done since I left. Its almost like I went on vacation for 14 months, and nobody covered for me. Better busy than unemployed though in my view.

As far as Fotozon goes, I've actually been working on a whole tagging and search function this weekend. After "auto-tagging" my 500+ pictures taken in the past year since I arrived in Taiwan, I went through each one to add tags describing the content of the scenes. Check out the search on the bottom of my Taiwan Photos page. While I've been planning on adding these functions anyways, I was kicked into gear after a newspaper displayed some interest in my photos, but they wanted a list of the categories and a way to search them. In the near future, I plan to make the auto-tagging, the one by one function and the search available to all of FotoZon after I finish working out a few details.

I leave you with a few links:

Hot new blog by Ashlin: Tumbling in Taiwan I especially his article about creator of the top level .cm domains

Face recognition technology in digital cameras?