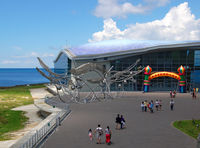 After being scorched in the hot southern sun in Kenting, it was a welcome respite to go under water for a while at the National Museum of Marine Biology and Aquarium on the way out of town. It is one of the best aquariums I've been to, and the large fish tank is very impressive. There are several tubes to walk under the water and look out at the fish.



Besides the photos already on my web site:





Here are a few others that are view worthy as well.
Inside the one of the tubes. I did not see any leaks.
The tubes from viewing window above. Note the people inside.
I thought these worms were impressive sticking their heads out
of the sand and looking like so many blades of sea-grass.
On the way out of the main hall, there's a nice whale fountain
where the kids can splash around and also lots of over-priced
snacks and drinks.. It was soooo hot in the afternoon, I had to
buy a Mango Shave Ice. It was sure good...